FIRESTONE DIRECT
NOW WE COME TO YOU
MOBILE CAR MAINTENANCE, TIRE REPAIR & MORE
Introducing our new partnership with Firestone Direct™, a mobile garage that brings select Tires Plus services direct to you, on your schedule. Now you can get an oil change while you're spending time with family or a new set of tires while you take a meeting at the office. Learn about the services offered, how Firestone Direct works, and book your convenient appointment today.
Mobile Auto Services Available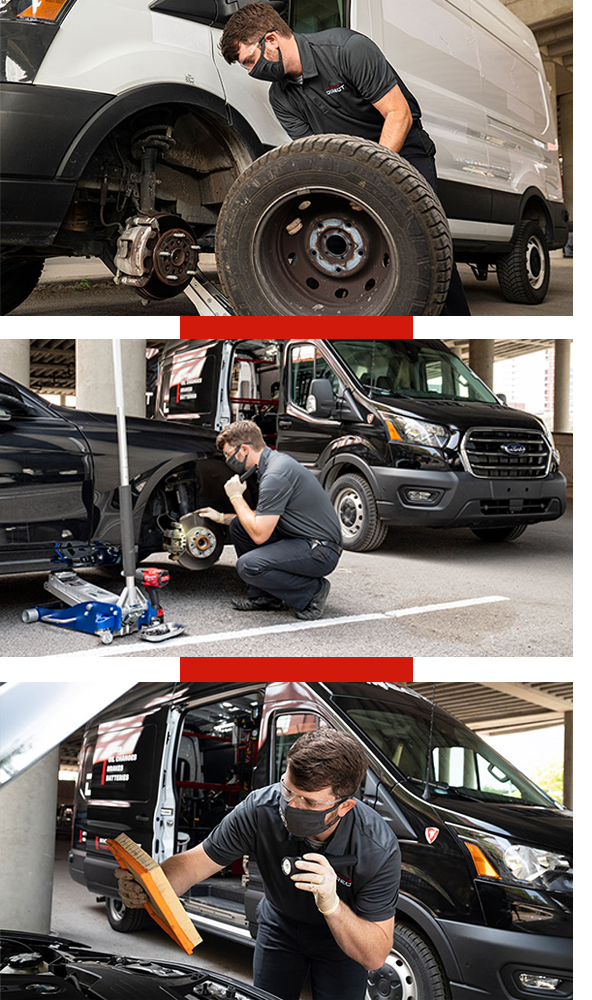 Mobile Tire Services
New Tire Installation: Just bought new tires online? If you don't want to make the extra trip for installation, our mobile tire technicians will come to you, install your tires, and answer any questions you may have.
Tire Changeover: Get your vehicle ready for winter or summer with the right tires. A tire changeover involves changing out your current tires for a seasonal set. It's a good idea to switch to winter tires when the temperature consistently drops below 45ºF, but they're not made to be driven on year-round.
Tire Rotation and Balance: Most auto manufacturers recommend a tire rotation and balance about every 5,000 miles to promote even tire wear and smooth handling. Both tire rotations and balancing tires have a big effect on your tire longevity, fuel mileage, and overall vehicle safety.
Tire Repair: If your TPMS light has come on or you can't seem to keep your tires inflated, we'll bring the tire repair to you and patch or plug your tire if it is repairable. Remember, avoid driving on a damaged tire to avoid any further problems.
Mobile Maintenance Services
Oil Change: Regular oil changes help protect your engine parts from daily wear and tear. Book a mobile oil change, and one of our friendly technicians will safely change your motor oil, replace and recycle your used oil and filter, and inspect other essential vehicle fluids.
Battery Check & Replacement: It's never a good time to be stuck without a charge, so schedule a battery check and, if needed, battery replacement. Your mobile auto specialist will test your battery's strength and recommend a battery replacement if your current battery is too weak or old.
Vehicle Inspection: A thorough inspection is a great way to help "future-proof" your ride and stay updated on your vehicle's overall condition. When you know how your car is running, what it needs—and what can wait, you can make confident choices about your car care.
Brake Service: Your brakes are one of the most important safety features on your vehicle, so before you get on the road again, make sure they'll perform when you need them. Our mobile auto specialists can perform brake inspections, replace brake pads/rotors or shoes/drum, and brake fluid replacements quickly and conveniently.
Mobile Part Services
Windshield Wiper Replacement: Get a clear view from the driver's seat when our mobile auto specialist replaces your old, streaky wipers with new wiper blades. We'll also refill your wiper fluid.
Cabin Air Filter Replacement: Help everyone in your vehicle breathe easier with a cabin filter replacement. This important filter helps trap contaminants and prevents them from entering your vehicle's cabin.
Engine Air Filter Replacement: A dirty engine air filter can force your engine to work harder than it needs to and potentially lead to poor fuel economy and performance. A mobile auto specialist can replace an old filter and bring some life back to your engine.
Light Bulb Replacement: Headlights and taillights don't just illuminate the road—they also help other drivers see you in the dark. Stay safe on the road with a light bulb replacement for headlights, taillights, or interior lights.
BOOK MOBILE AUTO SERVICES NOW
Being in the driver's seat means getting car service when—and where—it's convenient for you. We understand it can be difficult to work vehicle maintenance into your day, even during our extended night and weekend hours. But Firestone Direct is making caring for your car the easiest it's ever been. Mobile car maintenance is right around the corner, so schedule an appointment today.
HOW MOBILE AUTO SERVICES WORK
BOOK AN APPOINTMENT IN THREE EASY STEPS

ENTER YOUR ZIP CODE
We'll make sure you're in our service area. Tell us about your vehicle and select your services.

PICK A TIME WINDOW
We'll see you soon! Manage your appointment online and make changes up to 24 hours in advance.

PARK YOUR CAR ON A HARD, FLAT SURFACE
Your mobile auto technician will bring everything they need to complete your service. It's okay if your car is in a garage or under a carport.